The Roerich Family / Devika Rani Roerich
Devika Rani Roerich (1908 - 1994)
Devika Rani was a wife, friend and muse of the renowned Russian artist Svetoslav Roerich. They spent almost half a century together.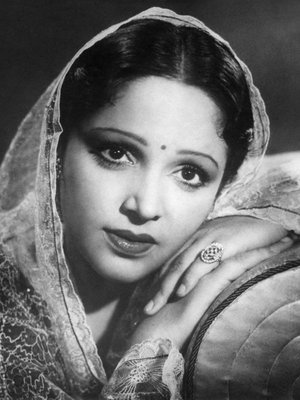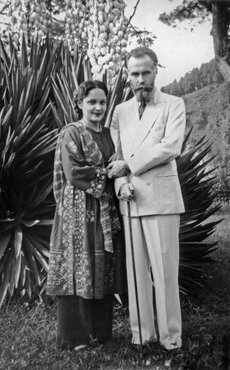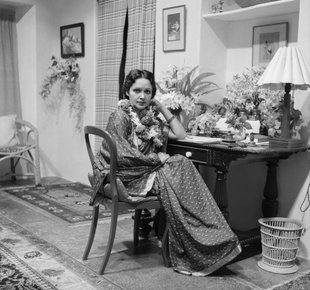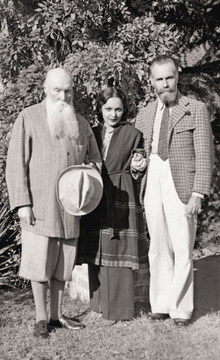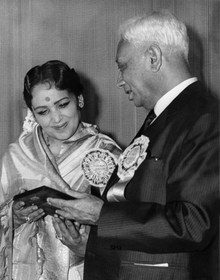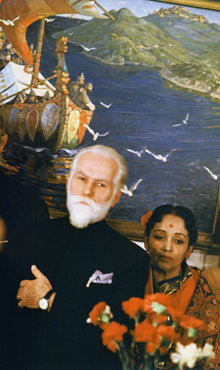 Born on March 30, 1908 into the family of the first Indian Surgeon-General of Madras Col. M.N. Chowdhury, Devika Rani was a grandniece of the great Indian writer and Nobel Laureate Rabindranath Tagore. 
As a child she displayed a lively interest in arts and her parents sent her for higher studies to England. She took up acting and music winning a scholarship from the Royal Academy of Dramatic Arts and the Royal Academy of Music in London. She then switched over to applied arts and even architecture.
While in London she met the producer of the German UFA Studios Himanshu Rai who had already achieved a world renown starring in the silent film The Light of Asia based on Edwin Arnold's eponymous long poem on the life of the Buddha, and joined him as a costume and set designer.
In 1929 she married Rai and the couple moved to Germany where Devika underwent thorough training at the UFA Studios in the art and technique of acting (under Eric Pommer) and almost all aspects of film production including costume and set designing and make-up. She studied under the eminent director G.W. Pabst and received training from such luminaries as Fritz Lang, Emil Jannings and Sternberg. She closely knew Marlene Dietrich. She happened to be in Germany when its cinema was at its peak and had a chance to study from the best.
Her debut film Karma (1933) directed by Rai and completed in Stoll Studios in London was a tremendous success and instantly catapulted Devika Rani to the position of the star.
One year later, finding it difficult to work in the already Nazi Germany Rai and Devika Rani decided to return to India where they together set up Bombay Talkies Ltd. near Bombay. The studio received state-of-the art equipment and invited foreign experts including the renowned film director Franz Osten. The objective of the studio was, according to Devika Rani "to put the [Indian] film industry...on a par with major industries of repute... to select a number of first-rate students from all over India...It was our aim to attract the best element in Indian society, with an educated and cultured background, to produce the highest type of art." The company achieved this objective having created an entire generation of Indian actors and film experts, greatly enhanced the artistic and technical standard of Indian film making and produced a number of feature films which rank as the classics of Indian cinema even today.
In less than 10 years (from 1935 to 1943) Devika Rani starred in 15 films produced by the Talkies, including 10 where she paired up with the first major Indian male star Ashok Kumar with whom they soon became the most romantic screen pair and who owed much of his popularity to this synergistic cooperation.
Some of the films she appeared in sent a powerful social message, for instance Acchut Kanya, the story of a low-caste girl in love with an upper-caste boy. Some of the film songs became quite popular during the final phase of India's struggle for independence. She is also remembered for discovering the jewel of Indian cinema, Dilip Kumar. As talented as she was beautiful, she ruled the hearts and minds of Indian cinema goers in 1930s and was recognized as the First Lady of Indian cinema.
The outbreak of WWII severely affected the studio: its entire German staff were interned by the British and Himanshu Rai, its heart and soul, passed away succumbing to the stress-related illness. Devika was made a director of the studio and also the Controller of Production. Despite the serious challenges (the struggle for controlling the studio and the mass exodus of the Talkies' veterans), the Talkies continued to produce first rate pictures throughout the early 1940s. But the decay was inevitable. Eventually the Talkies were sold and in 1954 had to close down. It was a rather sad end for the company that had such a glorious beginnings and attracted the best cinema experts in India and abroad.
In 1944, while still busy with film production, Devika Rani visited Svetoslav Roerich in his studio while looking for an artist to design sets for one of her productions.
Devika Rani loved Naggar and her experience with the Roerich family. At the end of her life she reminisced that "Kullu was home of his (i.e. Svetoslav Roerich's) people, his mother and father – Madam Roerich, Professor Roerich, George Roerich, his brother... And the most beautiful scenery... Himalayas... snow on the mountains and spring flowers... It became our home, my home. I was treated there as a daughter. And Svetoslav, apart from being my husband was a really good friend."
She was busy managing the Roerich Estate orchard in Naggar, the linaloe plantation in the Tataguni Estate and studied tribal jewelry and dresses designs. She managed Svetoslav's public relations, took part in organizing his painting exhibitions in India and abroad and setting up the Nicholas and Svetoslav Roerich Art Gallery in the Roerich Estate in Naggar. Her unflagging support and inspiration allowed Svetoslav Roerich to concentrate on art and create a wonderful series of Himalayan and South Indian landscapes and exquisite portraits, including those of Devika Rani suffused with love and affection. 
Maintaining her links with cinema world Devika Rani organized in 1955 in Delhi a seminar on the problems and prospects of Indian cinema. The seminar featured renowned Indian film directors and actors like Raj Kapoor, Nargis and Dilip Kumar and received an international angle with the participation of Chinese and Russian delegations. She was also associated with various Indian cultural organizations: the National Academy of Dance, Drama and Films, the Sangeet Natak Academy, the Lalit Kala Academy, the Indian Council of Cultural Relations (ICCR) to name a few.
Along with Svetoslav Roerich she took active part in the development of the Karnataka Chitrakala Parishath which due to their efforts became the dominant cultural institution of Bangalore. She accompanied Svetoslav Roerich in his trips and exhibition tours abroad including those to Soviet Union in 1960, 1974-75 and 1987-1989 (when the couple was received by the President of Soviet Union Mikhail Gorbachev) and to Bulgaria in 1978. During her visits to Soviet Union she developed friendly relations with the close associates of the Roerich family: Lyudmila Shaposhnikova, Pavel Belikov, Kira Molchanova etc. who later on spearheaded the Roerich movement in Russia and other post-Soviet states.
Devika Rani was decorated with a number of prestigious national and international awards. In 1958 she received the Padmashri Award for her life-long contribution to Indian cinema. In 1970 she was decorated with the first Dadasaheb Phalke Award "for outstanding service to film industry." In 1981 she received a medal from the Indian Academy of Motion Picture, Art and Science. She was also decorated with the Medal of the Centenary of Independence of Bulgaria (1978), the Jubilee Medal of the Bulgarian People's Republic (1984) and the prestigious Soviet Land Nehru Award (1989).
She passed away in 1994 and was cremated in Bangalore. According to her last will her ashes were to be partly placed at the burial site of Svetoslav Roerich in the Tataguni Estate and partly taken to the Himalayan Roerich Estate in Naggar where they were interred close to the Samadhi of Nicholas Roerich in a solemn ceremony.
Devika Rani and Svetoslav Roerich. Kullu. 1940s
She played female lead in all of them and even personally performed a number of songs. The most remarkable and popular of her films were Jawani ki Hawa (1935), Janma Bhoomi (1936) and Jeevan Naiya (1936).
Left to Right: Feroze Gandhi, Devika Rani Roerich, Katherine Campbell, Indira Gandhi, Svetoslav Roerich. India. 1950.
The meeting changed the course of her life. They immediately established a close rapport and married the following year. Devika Rani left film industry and moved to the Roerichs' residence in the Himalayan foothills in Naggar. In 1949 the couple acquired the big Tataguni Estate near Bangalore and settled there visiting Naggar in summer months and paying occasional visits to Svetoslav's mother and elder brother in Kalimpong.
Nicholas Roerich, Devika Rani and Svetoslav Roerich. Kullu. 1940s
Devika Rani awarded on the occasion of the 70th anniversary of Indian cinema. India. 1974
Svetoslav and Devika Rani Roerich at the opening of the Nicholas Roerich exhibition in the Soviet Academy of Arts, November 21, 1974