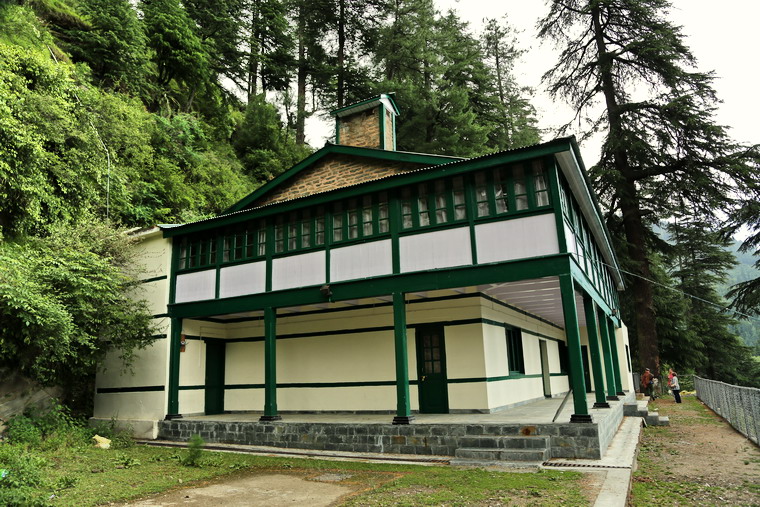 The Cultural-Educational Centre of the IRMT is located in a picturesque spot slightly below the Urusvati Himalayan Research Institute in two recently repaired small-size buildings that belonged to Colonel Osborne in the beginning of the 20th century and were acquired about 10 years ago by the Himachal Pradesh administration for the needs of the Trust. From this spot one gets a wonderful view of the mountain slopes overgrown with deodars, the silvery Beas and the Kullu Valley framed by the Himalayan peaks.
The Centre comprises the Helena Roerich Academy of Arts for Children, Library and Reading Room, Computer Room and Devika Rani Gallery.
Devika Rani Gallery is meant for the exhibitions of the young artists, for displaying children's paintings and photography exhibitions. The reproduction of the portrait of Devika Rani by Svetoslav Roerich and several photographs of Devika have become a hallmark of the newly opened Gallery.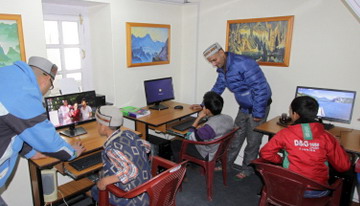 With great pleasure local kids study in the small but two-storied Computer Room. Under the guidance of their teachers they study computers, learn to process and print photographs and use internet. Internet services are available both to the local residents and visitors. 
In the Library one can find books on different subjects. First and foremost, there are editions dedicated to the life and work of the Roerichs; the books authored by the Roerichs themselves and the volumes of the Living Ethics created by Helena Roerich in cooperation with the great Spiritual Masters of the Orient. The library also contains the books on Ramakrishna and Vivekananda, Indian philosophy, religion, culture, ethnography, Tibetan Buddhism, traditional Tibetan medicine and Ayurveda. One can read books on art, Russian and world classics as well as children's books. The residents of India and foreign guests will be able to read books in Hindi, English, Russian, German, Spanish, Greek and other languages.
The Reading Room of the Library is located on the balcony providing spectacular views of the Himalayas. Visitors can take a book, sit comfortably on the mat at the low table and get transferred in their minds and hearts into the magical world of Culture.
The grand opening of the Cultural-Educational Centre of the IRMT took place on October 9, 2015 and was timed to the celebrations of the 141th anniversary of Nicholas Roerich. The newly opened Centre has become a veritable gift to all those who strive for art, knowledge and creative expression.