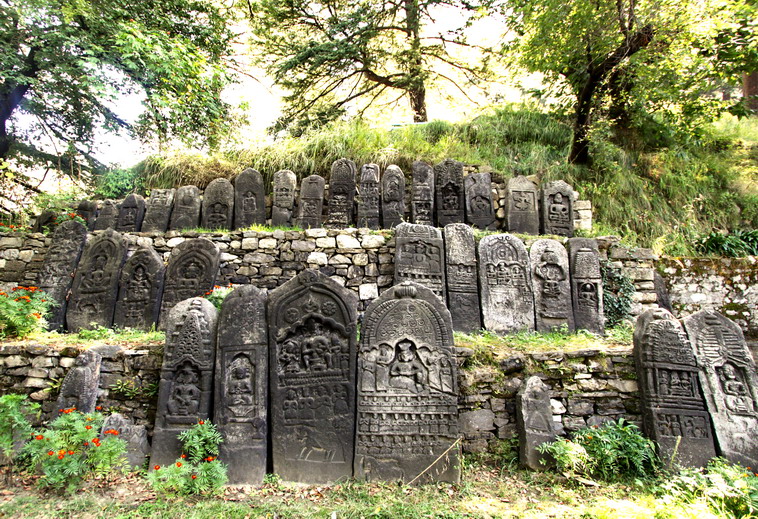 The "The Kullu Rajahs' Memorial stones" outdoor display just above the Roerich House to the right of the main road brings us back to the Middle Ages when Naggar was the capital of the ancient principality of  Kuluta (in the mid-17th century the capital was transferred to Sultanpur, now the town of Kullu). The princely residence of Rajput princes who ruled Kuluta was the Naggar Castle known today to the local people and tourists as the hotel "Castle."

Here, two hundred meters below the "Castle" at the probable royal cremation site the memorial stones of Kuluta rajahs and their wives were set arranged in several rows. In India these funerary steles are called "barsela" and "sati." In his book "Art in the Kullu valley" first published in India in 1967 Svetoslav Roerich wrote, "Kullu Rajas Memorial stones with images of Rajas and Ranis can be found in the valley below the main road leading to the Naggar Castle from Kathrein, and close to this place there is a large number of such slabs... Many of them were affected by natural conditions while others went over time into the ground..."

In 2004, the surviving memorial stones were moved to the Roerichs' Estate and installed in three rows in a specially prepared site. 
These stones are mainly of a rectangular shape rounded at the top. The Rajah's figure is in the central part and near and below there are outlines of women's figures. Often they contain images of a horse. The original images on almost all the stones are badly damaged and have multiple losses as they were made of grey sandstone; it is quite a fragile material.

The clothing of people depicted on the steles is of particular interest. On some of them both male and female figures are arrayed in long cape-dresses similar to those on coins and sculptures of the Kushan Empire (I – early III centuries A.D.). On some stones you can discern a garment resembling a sari with one end lying on the left shoulder. Women's dress on stones of the later period reminds us of Rajputana women's clothes recorded in the works of traditional Indian miniatures.

The upper part of many slabs has a shikhara motif – a pyramidal carved pommel specific to Indian temples. Shikhara is decorated with a pattern traditional to the Kullu valley temples.

The Rajahs' and Ranis' memorial stones preserved in Naggar keep the History itself – the ancient history of Kuluta, India and mankind. We should carefully preserve and study historical and cultural monuments of our heroic and tragic past, for without knowledge and comprehension of historical process in all its richness it is impossible to define the main tracks of our future. As Nicholas Roerich asserted, there is no future without past.