30.05-03.06.2017
Vijay Murtikar brings Benares to Naggar
Mr. Murtikar's journey as an artist can be viewed as a continuous exploration of the moods of his native city of Benares. For the present exhibition he brought multiple watercolour landscapes of that 'eternal city' steeped in tradition with its characteristic and unforgettable ghats and boats, numerous temples and palaces. His paintings are mostly done on the spot.
On May 30, 2017, the exhibition of paintings by the Benares-based artist Mr. Vijay Murtikar opened at the International Roerich Memorial Trust (IRMT), Naggar. The exhibition was inaugurated by Mrs. Larisa Surgina, Russian Curator, IRMT.
It is Mr. Murtikar's second exhibition in the IRMT and the artist brought a number of new works largely in the same genres and techniques. Mr. Murtikar continues to work on the image of the endearing Ganesha, his most favourite deity. In the exhibition, he displayed his multiple pictures of Ganesha, whom he is never tired of painting in various postures, moods and surroundings. His latest series on the subject is in white crayons on black paper showing Ganesha with remarkable 3D effect: playing sitar, drum and santoor; performing the evening ritual on the bank of the Ganges, etc. Each work took Murtikar less than a minute to make – the skill he aptly demonstrated at the opening of the exhibition when he sketched Ganesha in just above 30 seconds (the feat that caused the excited applauds of those present).
Closely allied with it is Mr. Murtikar's new series of portraits of the sadhus of Benares. Old and wise as the city they live in, these holy men have long since become the landmark of Benares. The artist says he paints them and learns from them at the same time.
Mr. Murtikar also displayed his miniature stone carvings that can fit on the tip of one's finger: figures of the Buddha, tiny elephants, owls, tortoises, etc.
The exhibition will remain on view till June 3, 2017.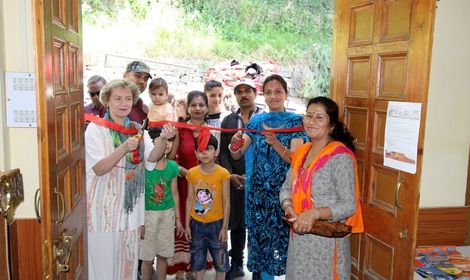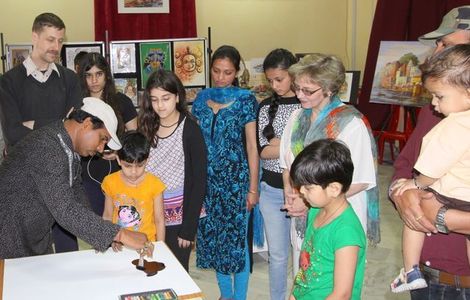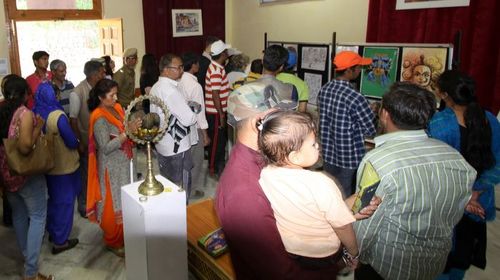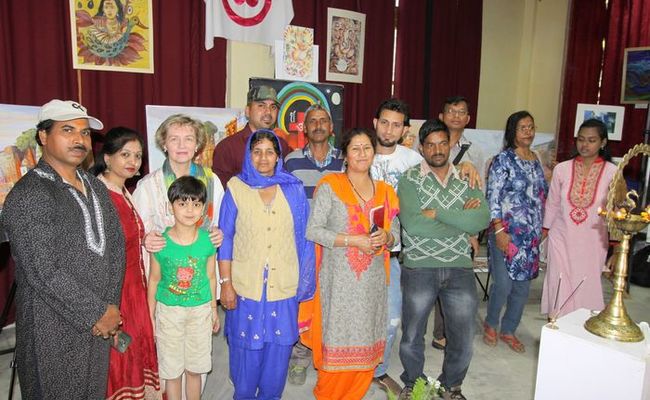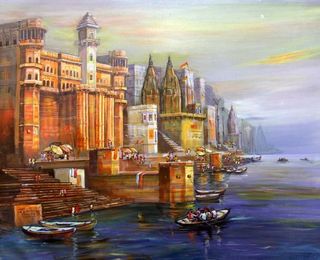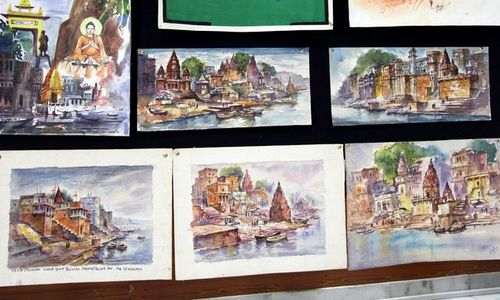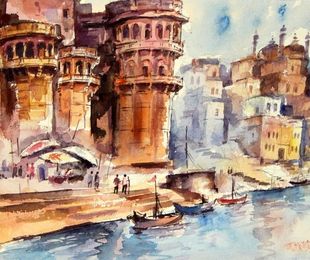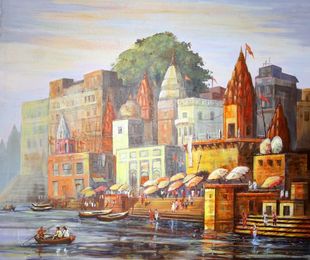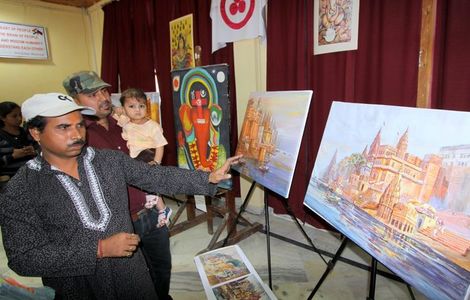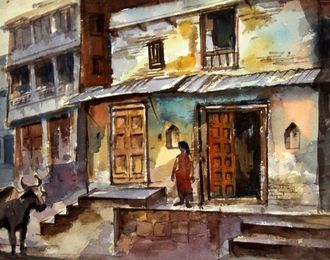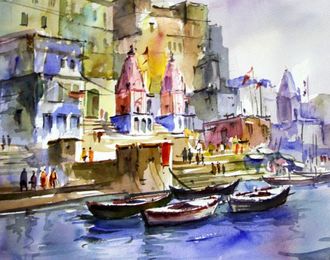 To depict a particular place and bring out its inner beauty the artist attempts to penetrate into its very soul: he spends long time there, mingles with the people frequenting it, observes chiaroscuro and the ever changing play of colours, and thoroughly studies its environment. As a result, his representations of Benares are faithful and full of relevant detail, which could be seen on the example of his new series of oil studies based on entirely on the ghats – the series done from boat to get a better view.