On 04-10.06.2016 the International Roerich Memorial Trust, Naggar, hosted the painting exhibition of the Manali-based artist Mrs. Anuradha Thalwal. The guest of honour at the opening ceremony was Mrs. Sadhna Sangar, a famous artist from Chandigarh, and a culture figure actively helping young artists to find their place in the world of art.
4.06.2016
Anuradha Thalwal's exhibition in the IRMT
Since childhood Anuradha Thalwal has been displaying lively interest in painting. She spent her childhood in a mountain village in the Kangra Distt., Himachal Pradesh. She would go to the surrounding hills armed with a pencil and paper and endlessly draw scenery. She could not receive professional training in art but she did not give up her dream and continued to develop her artistic abilities herself.
In the present exhibition she exhibited her series of flowers. She genuinely likes tending to them at her residence and painting them, especially lilies.
Some of her works depict touching genre scenes: a woman waiting for her husband to return home, and the idyllic Pahari couple (a man playing pipe and his woman listening mesmerized in the backdrop of impressive Himalayan landscape).
Mountain nature captivates her with its beauty and serenity. In the exhibition one can see her beautiful mountain landscapes with waterfalls and snow-draped pines, views of Manali and other places in the Kullu valley, and the forest Bahu Lake in the beyond the Jalori Pass.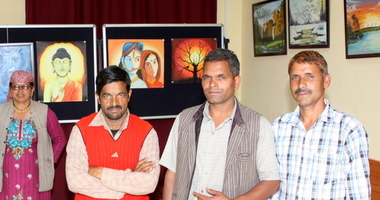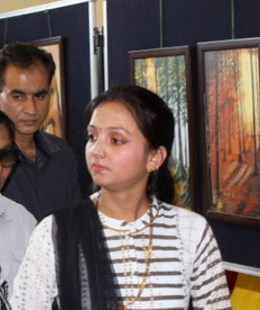 She works in acrylic, watercolour and oil, clearly preferring the latter. For the past three years she has been painting daily dividing her time between art and household chores. Anuradha says that art makes her day complete and adds value to her life.
Anuradha Thalwal's paintings ooze beauty, harmony and joie de vivre.  Incidentally, this is her first exhibition, and from the bottom of our heart we would like to wish her energy and success in realizing her dream.