17-22.11.2016
Abstract Art Displayed in Naggar
On November 17, 2016 the International Roerich Memorial Trust hosted the exhibition of abstract art by the contemporary Indian artist from Kerala Austin Konchira.
Konchira has been painting since 1965 and participated in almost 30 group and solo shows including three in the Netherlands. Among the major artists that influenced him he counts the doyen of modern Indian art Raja Ravi Varma and the renowned Russian artist Nicholas Roerich. For Konchira who was born and brought up in Trivandrum, seeing their works on permanent display in the Sri Chitralayam Gallery was almost a weekly experience for him as a child. He was mesmerized by the singularly beautiful painting by Nicholas Roerich Lake of Gennesaret. "I would gaze at it for hours. It felt like I was standing right there surrounded by desert landscape," recalls the artist.
He worked in realistic style in his young years, then switched over to surrealism and subsequently found himself in abstraction. He likes abstract art for the freedom it gives the audience to interpret it in their own way. The artist just expresses his feelings on canvas while the audience is left to search for meanings.  For the same reason he never titles his abstract works or gives names to his exhibitions.
In the exhibition one can see several of his paintings dedicated to the hill states of North East he visited in 2010. They depict rows of traditional houses arranged on hill slopes painted in every shade of green, blue and purple. His vision of his native Kerala with its backwaters and moored boats is done in the same style. 
Konchira's paintings are collections of geometric forms springing from his imagination. When one observes them from a distance, however, one cannot fail to notice how they start forming a more general picture producing a rather harmonious impression due to their apt combination of colours.
The most recent and persistent themes in Konchira's art are the development of technology, rampant urbanization, population explosion and their impact on nature and the life of human beings – all of them of extreme relevance in modern Indian and, indeed, global context. Several of such works are hung in the exhibition. Through them Konchira raises his voice against the misuse of technology, which results in destruction of nature rather than in its preservation.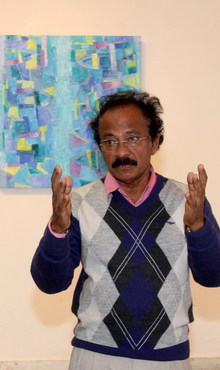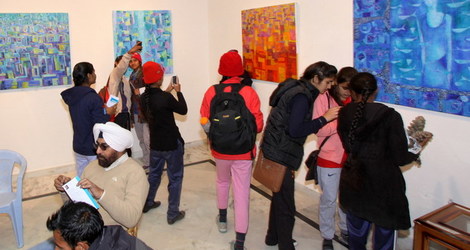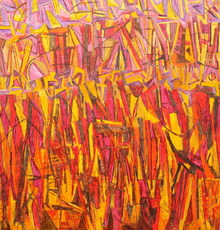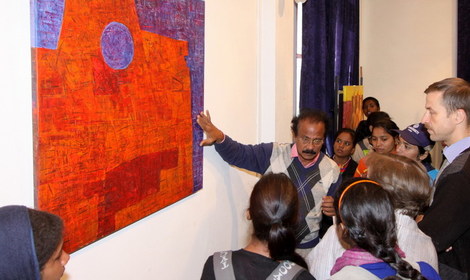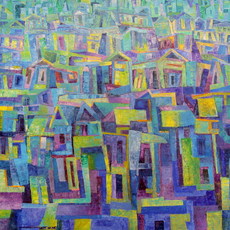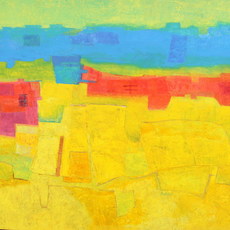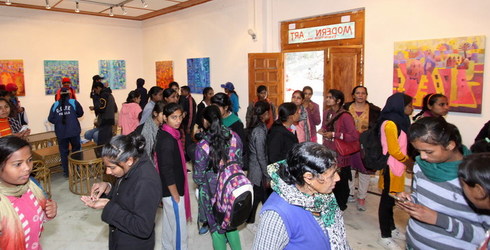 The exhibition will remain on view till November 22, 2016.