"Urusvati" Institute / Exhibitions /
"The History of "Urusvati" Institute"
"The History of "Urusvati" Institute"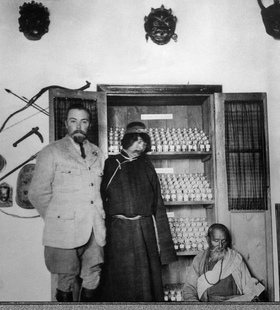 The exhibition on the history and activities of "Urusvati" Institute is displayed in one of the halls of the Laboratory Block of the Institute. It was opened in 2002 on the occasion of the centenary of George Roerich, the elder son of Nicholas and Helena Roerich, the world renowned Orientalist, Buddhist scholar, linguist, and the life-long director of the "Urusvati" Himalayan Research Institute.  
The exhibition was prepared in cooperation with the Manuscript Department of the International Centre of the Roerichs, Moscow. The exhibition presents the archival photographs and documents telling about the history of the Institute, samples of the ornithological, mineralogical and botanical collections gathered during the Central Asian Expedition and the expeditions conducted by the Institute.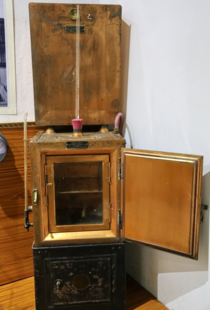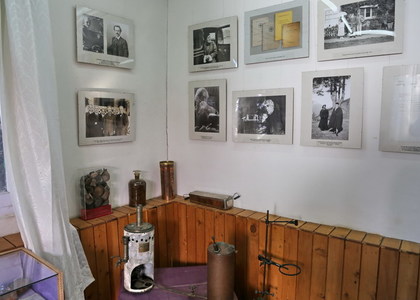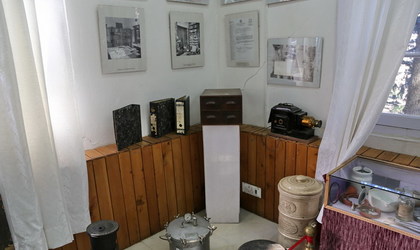 In 1930-32 the Institute conducted five expeditions in the Kullu Valley proper and in Lahaul, Kinnaur, Kangra, Ladakh and Zanskar. It also systematized the artifacts collected during the Central Asian Expedition. The Institute Museum accumulated valuable botanical, ornithological and zoological collections and constructed a building for biochemical laboratory.  
The Institute established relations with such luminaries of Indian science and culture as C.V.Raman, Jagadish Chandra Bose, Rabindranath Tagore and many others. Among the honorary advisors, correspondence and permanent members it counted the Nobel laureate Albert Einstein, Robert Millikan, L. de Broglie, the president of the Archeological Institute of America Prof. R. Magoffin and the famous explorer Dr. Sven Hedin. One can see the photographs of these remarkable personalities in the exhibition. 
During the years of its functioning, the Institute built up an impressive research library. It brought out the annual Journal of "Urusvati" Himalayan Research Institute, which published articles on archeology, ethnography, linguistics, philosophy, botany, pharmacology, geology and other subjects. One of the issues of the journal and some other printed editions are displayed in the showcases. 
In the same hall one can see mineral and fossil samples and some scientific and technical equipment used in the Institute.
At present the halls of "Urusvati" Institute premises are being renovated and the exhibitions gradually renewed. It is planned to open such exhibitions as "The Memorial Study of George Roerich" and "The Central Asian Expedition of Nicholas Roerich" as well as some renewed exhibitions on the history and activities of the Institute and its director, George Roerich.