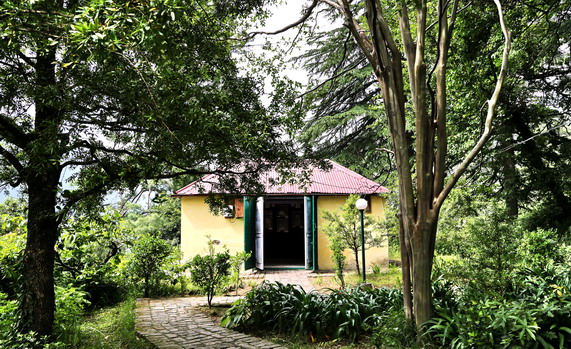 Svetoslav Roerich's summer studio is a small one-room house with a hipped roof, which you can find on a hillside just below the Roerichs' two-storied house. The stone-paved path starts at the Nicholas and Svetoslav Roerich Art Gallery, goes down the hill offering a stunning view of the Kullu valley, and then turns right at the fork ending in a welcoming open door of Svetoslav Roerich's summer studio surrounded by boxwood and persimmon trees.  In the past, the studio windows overlooked the snow-capped peaks of Mountain Gepang now hidden by overgrown trees. Here, another door went on the northern slope; now it is closed. The central part of the roof was glazed and the studio had a lot of sunlight.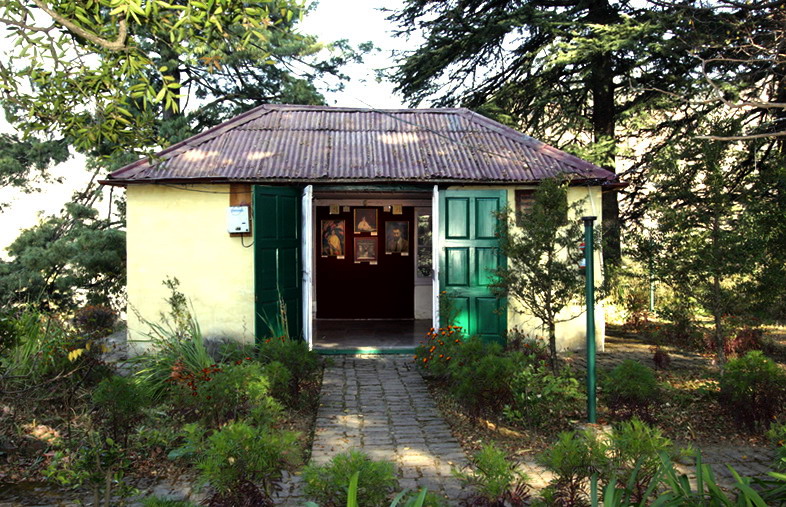 The summer studio display was opened after an overhaul repair in 2004, the year of Svetoslav Roerich's 100th anniversary. In 2013, a renewed display prepared in collaboration with the International Centre of the Roerichs, Moscow, was opened. 
The studio display contains archive photos, reproductions of paintings and memorial items and mainly covers the period of Svetoslav Roerich's life in Kullu where he first came to his family in 1931. 
The artist's stay in Kullu was filled with different kinds of creative activities: work on the paintings, engagement in the Urusvati Institute activities, study of local and Tibetan medicine, research in phytobiology. One of the showcases displays several preserved tubes of tempera paints, a copy of Svetoslav Roerich's drawing of a fisherman with a fishing rod, bottles with medicinal herbs from the Urusvati Institute collection. Here, in the studio, one can see the painter's memorial easel and an elegant ceramic tiled stove of a warm golden-brown hue. It might have been used for heating in a cold weather and during monsoon or might have served for making paints.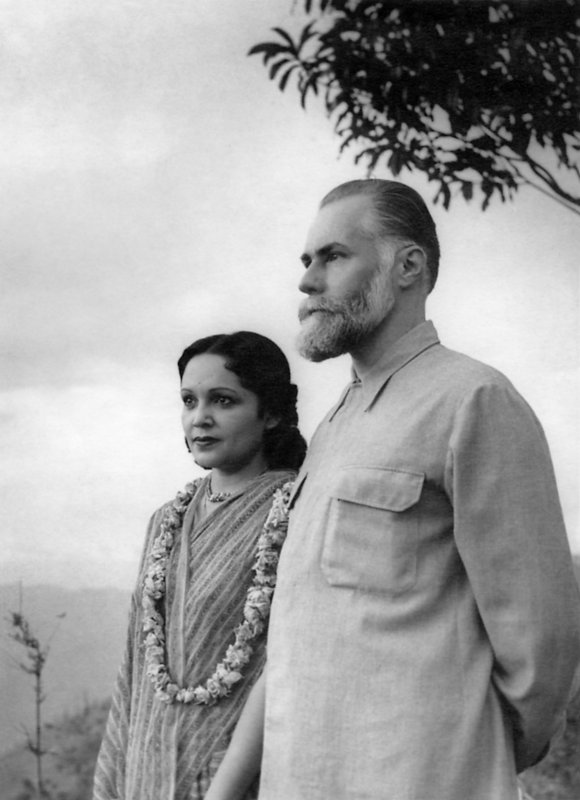 Svetoslav Roerich's diverse interests are also reflected in the photos. The photo of 1931 shows the young artist with his father on the religious Dussehra festival in Kullu. The photo of 1942 tells us about the visit of Jawaharlal Nehru, the future Prime Minister of India, to the estate, with whom Svetoslav Roerich enjoyed a long-standing friendship. In the picture of 1934 the artist is captured in front of the easel with his painting "Karma Dorje." Lama Karma Dorje was a friend of the Roerich family, he often visited them and taught George, the Roerichs' eldest son, Tibetan language and Buddhism. The display has a reproduction of the Lama's portrait where he is depicted against magnificent mountain peaks. 
The reproductions of his parents' portraits created by Svetoslav Roerich when staying in Kullu reveal him as a brilliant portraitist. In the studio there are two portraits of Nicholas Roerich: Nicholas Roerich in Tibetan Clothes (1933), and Professor Nicholas Roerich (1934) and an inspired portrait of Helena Roerich (1937). Photos and small sketches represented here and created by the painter while working on portraits offer us a "peep" into his creative laboratory.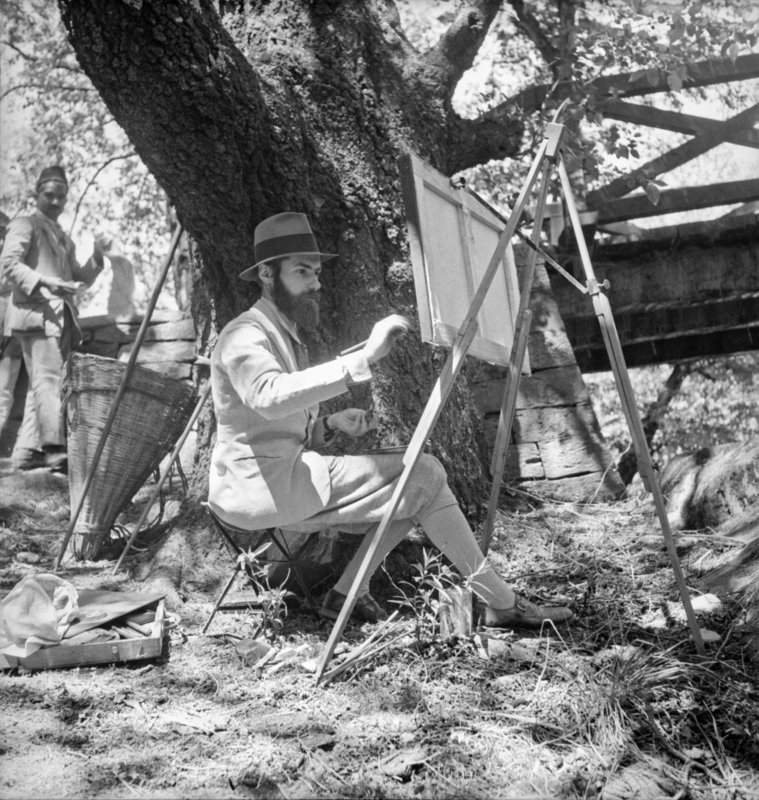 The studio display also presents a reproduction of the portrait of Svetoslav Roerich's wife, Devika Rani, painted in 1946, the year after their wedding. "She is a wonderful person of European education, moreover, she is a grandniece of Tagore, and the high innate culture of this family is vividly pronounced in all her life," Helena Roerich wrote in one of her letters. "We got to love her strongly, together with her husband she would spend summers and falls here with us. N[icholas] K[onstantinovich] really appreciated her sensitivity and amazingly smooth character." Devika is depicted in a sunny yellow sari in the background of soft pink flowers of Indian lilac. Her appearance oozes feminine charm and spiritual refinement.
Devika Rani, an Indian movie star, actress and film director was a loyal wife and friend of Svetoslav Roerich. Being a well-educated and talented person, she was a member of many cultural Indian organizations, but she considered helping her husband with everything her principle mission. In one of the showcases you can see Devika Rani's typewriter, a few stationery items, jewellery, and a small-size edition of the Bible presented to Devika by her mother.
Devika Rani invariably accompanied her husband in his trips to Russia. "A living particle of India" – that is how Svetoslav Roerich presented her at exhibitions. He spoke about his wife, "She has enriched and keeps enriching my life a lot. She is that closest contact I have with India and perhaps one of the main reasons why I love India so much."
Russia and India were indivisible in the heart and life of the artist, in his work and endeavours. In 1989, on the initiative of Svetoslav Roerich, the Soviet Roerichs Foundation was established in Moscow (renamed into the International Centre of the Roerichs). In 1992, Svetoslav Roerich founded the International Roerich Memorial Trust in India. Founding those organizations aimed to preserve the Roerichs' heritage, actively promote their ideas and creativity, and thus open new ways for mankind's advancement towards peaceful and bright future, was Svetoslav Roerich's greatest contribution to the work of integrating Russia and India.  
The bright colours of the Russian and Indian national flags crown the Svetoslav Rorich's studio display symbolizing the cultural and spiritual affinity of our two great countries.