Master Class by the Eminent Artist from Chandigarh, Secretary of the Punjab Lalit Kala Akademi Prof. Sadhna Sangar in the 
Helena Roerich Academy of Arts for Children, Naggar
On the day of the grand opening of her solo exhibition in the Roerich Estate in Naggar Prof. Sadhna Sangar conducted a drawing master class for the students of the Helena Roerich Academy of Arts for Children managed by the International Roerich Memorial Trust, Naggar.
A talented educationalist, Prof. Sangar felt quite at ease with children. She demonstrated how from a simple circle a multitude of complex forms can be developed: spirals, faces, sun and moon, tree leaves, wings of butterflies... She extolled the students to use their imagination, and produce original work "letting the lines themselves decide what they want to become." The students gladly embraced the idea of drawing without rules and the hall was soon filled with the sound of pencils being studiously scratched against the paper sheets. 
Then the artist explained the students how complex pictures can spring from something as simple as intersecting lines. This teaching technique having a deep philosophical meaning was developed by Prof. Sangar. "This world sprang from a single dot, bindu," says Sangar. "Art can also spring from a dot or a circle, since just like creation of the world it is all about development of a simple form into ever more complex forms. During meditation, one concentrates on a single point. If one does that while doing art, one can fuse mind and brush and create great pieces. After all, art is a form of meditation." 
Prof. Sangar demonstrated to the students her drawing technique having produced a lovely mountain landscape complete with pines, sloping roof houses and a river. Following her example and making use of their rich imagination the students completed their own landscapes, and some of their works were truly remarkable and unexpectedly skillful.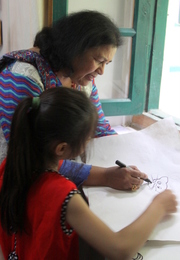 News of the Helena Roerich Academy of Arts / ...