11.03.2017
Students' Works on Display in the IRMT
On March 11, 2017 the International Roerich Memorial Trust (IRMT) inaugurated the exhibition of the works by 18 students of the Department of Visual Arts, Himachal Pradesh University, Shimla. The students included residents of different parts of Himachal and other states of India and one foreign national studying art on the Master's level.
The exhibition displayed the students' class works and assignments normally exhibited annually in the campus itself. "But this year we decided to show them in the IRMT, which is known to be an international cultural center," said Dr. Nand Lal, Asstt. Prof (F.S.), Department of Visual Arts, Himachal Pradesh University, Shimla, who arrived with his students and curated the event.
Mr. Ramesh Chander, Indian Curator, IRMT, congratulated the students on their excellent work and compared art to spiritual practice or sadhana. Mrs. Larisa Surgina, Russian Curator, IRMT, praised the role of teachers in guiding the budding talents and highly appreciated the beauty of their works.
One could also see a number of mountain landscapes (all of them done on the spot) including the spectacular view of the Great Himalayan Range seen from Kufri. As for the multiple still lives, they immediately filled the exhibition space with their unforgettable gay and rich colours as if in anticipation of the colour festival of Holi which was due on the next day. Several students chose to exhibit their collage works made up of the scores of pieces of coloured paper. Of particular interest among them were a dynamic portrait of a danseuse and a still life with brightly burning candles.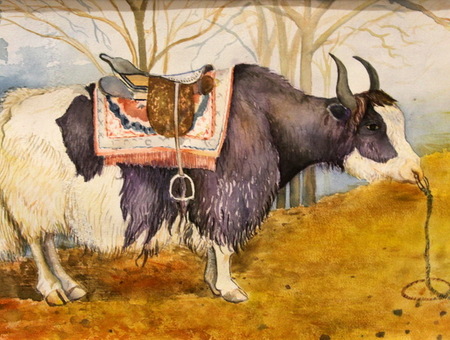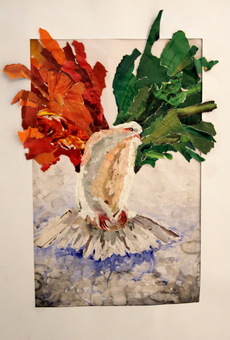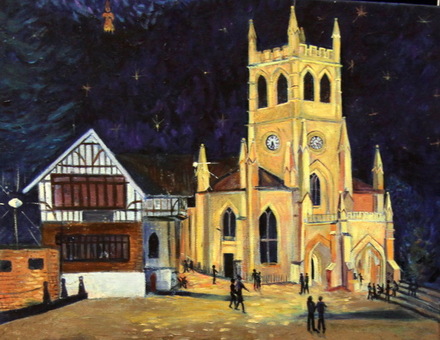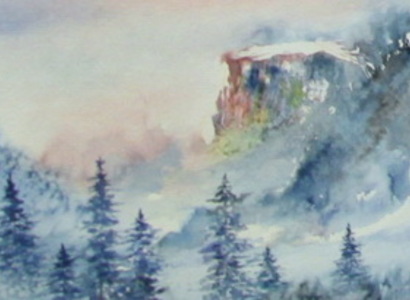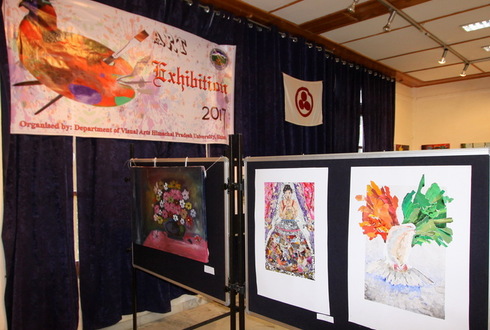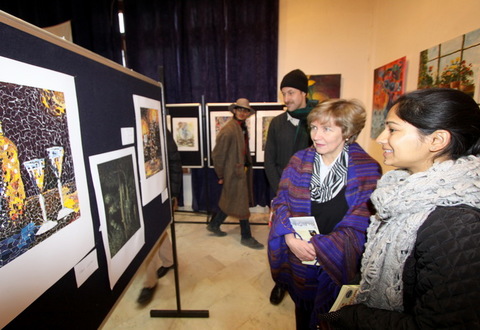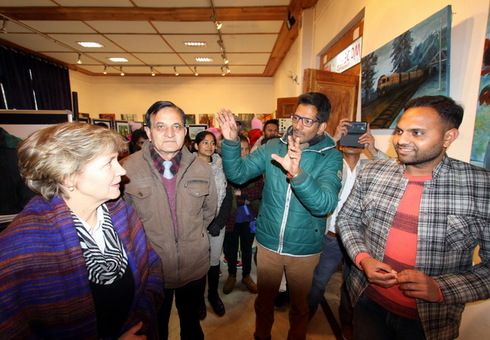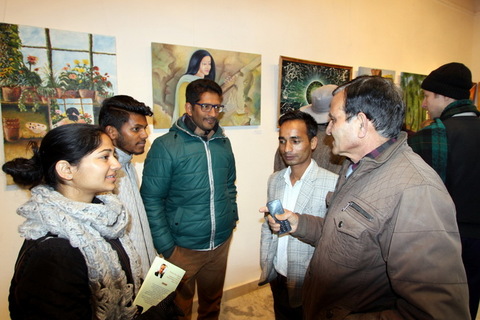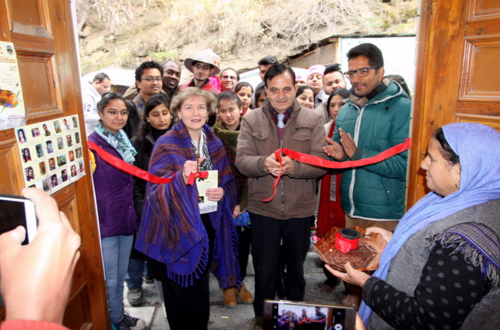 One by one, the students presented their works executed in a wide range of media on a variety of topics. One could see highly conceptual works on women empowerment, the pictures of old structures, in which Shimla abounds and justly takes pride, a large number of Himalayan landscapes and pictures of daily student life. The visitors admired the elegantly depicted landmarks of Shimla such as the State Library, the railway station, Christchurch, Indian Coffee House and the Ridge. "Government does a commendable job conserving the old structures of Shimla, but artists may greatly assist in their preservation by merely capturing their beauty on canvas," believes Dr. Nand Lal adding that water colours are particularly good for depicting monuments.