In June 21-26, 2016 a group of 14 artists conducted an exhibition of paintings in the International Roerich Memorial Trust (IRMT), Naggar. The group was headed by Naveen Dhiman, Secretary, Himachal Art Heritage, Sundernagar, and Prabhinder Lall, President, Artfort India, Chandigarh.  It is their 6th exhibition in the IRMT, and it coincided with their 4th workshop in the same place. 
21-26.06.2016
Exhibition-cum-Workshop in Roerich Estate
Mr. Naveen Dhiman, a veteran Himachali painter, exhibited a part of his series on Radha and Krishna. His organization Himachal Art Heritage uniting some 40 artists some of whom participated in the present exhibition, is dedicated to art promotion and regularly organizes workshops for schoolchildren teaching them basics of drawing.
The same exhibition displayed two figurative paintings from the series by Dr. Sushma from Jalandhar symbolizing elements; black-and-white electrophoto works by Jang S. Varman from Jammu; an impressionist female portrait by Liyu Wu, Taiwan; a landscape by Peena Kaundal from Bilaspur, Himachal Pradesh; pieces of abstract art by Shivali Jamwal and Sahil Ohri, both from Jammu, and by Kamaljeet Kaur and Harpreet Kaur, both graduates of Art College, Chandigarh; a figurative female portrait by Anuradha Devi from Samba, Jammu, and Amrit Kaur from Jammu; the abstract impressions of childhood by Trapti Gupta from Gwalior; and a colourful depiction of Khmer monuments tucked away in the depths of Cambodian jungle by another resident of Gwalior, Anurag Jadia.
Mr. Prabhinder Lall's Artfort India involving 5 people in Chandigarh and Himachal Pradesh organizes workshops and exhibitions with participation of foreign art figures to give a chance to budding artists and promote contemporary Indian art. He displayed four of his abstract paintings from his recent series on the damage done to nature due to rampant urbanization. "There is scarcely any green colour spots in these pictures," says Mr. Lall. "It is meant to show that nature has been reduced to naught by the rapid growth of cities, and it is alarming." During the workshop in the IRMT Mr. Lall created two abstract views of Naggar: by night and by day.
Except for Liyu Wu, Sahil Ohri, Kamaljeet Kaur and Harpreet Kaur, all of the above mentioned artists participated in the workshop and created delightful works of art inspired by the art-saturated ambience of the Roerich Estate, freshness of summer hills, and tapping the inexhaustible spring of their imagination.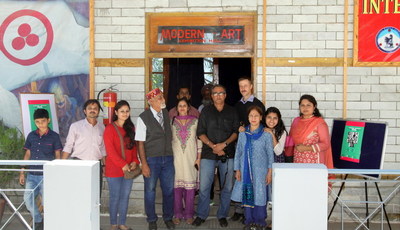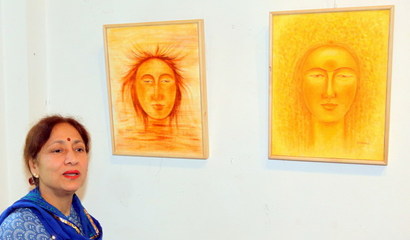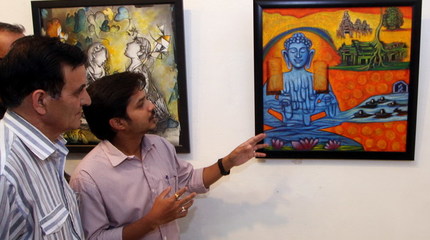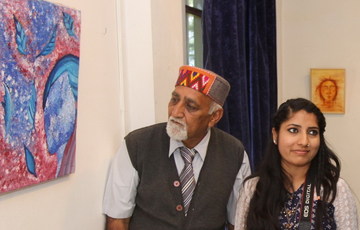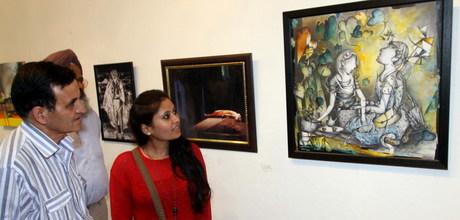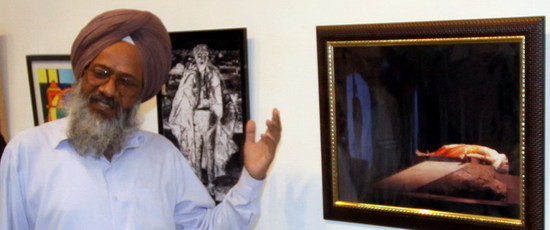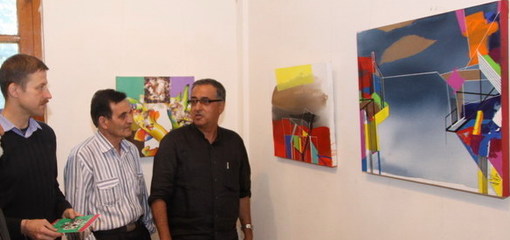 For Mr. Dhiman Naggar has a special significance as the place of scenic beauty and the abode of Nicholas Roerich, which factors make it a kala-karmabhumi (the place where art should be created). "We come from the Himalayas but we haven't done as much as Roerich to immortalize their beauty," says Mr. Dhiman. "This place is superb for art work. An art institution in this place will have a bright future."